2016 LAMP Blog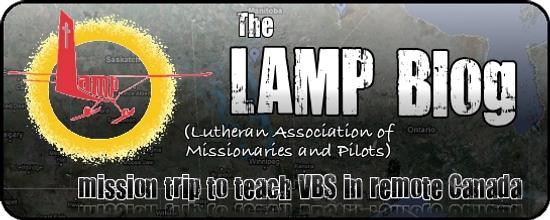 For the eighth consecutive year, Trinity is sending volunteer missionaries to remote areas of Canada to lead vacation Bible school for First Nation children in cooperation with Lutheran Association of Missionaries and Pilots (LAMP). The twenty missionaries, some members of Trinity and some friends and family members from other churches, are divided into the following teams, serving in Norway House or Shamattawa, Manitoba.
Norway House Team 1: Glenda Nordmark, Laurie Drewlow, Milan Drewlow, Judy Maxson, Ronald Schulz, and Lisa Johnson
Norway House Team 2: Andrew Connell, James Lange, Janet Samson, David Schlicker, and Esther Schlicker
Norway House Team 3: Myron Drevlow, Nadine Drevlow, Chuck Dale, Char Dale, and Sam Martin
Shamattawa Team:  Leon Dawkins, Lori Dawkins, Jessica Schmidt, and Dave Schneeberger
The Shamattawa team will depart on Friday, July 15, and Norway House teams will depart on Saturday, July 16. Teams will be commissioned during the worship service on Sunday, July 10, 2016.The teams hope to post daily July 18-22.